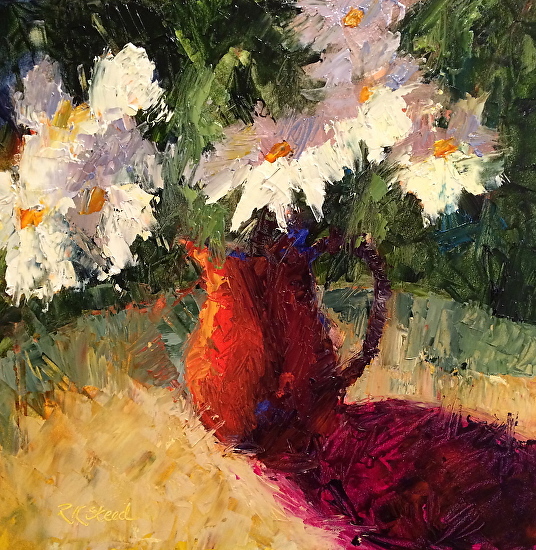 Beautiful New Year 2014!
Can you smell the flowers, and that fresh garden in summer time fragrance? Summer flowers are such a treat for mid-winter chills - real gems - with some hot color to warm you up! - Yes, they were grown in my garden, thanks to my hubby!
I'm so happy to be in the middle of a HUGE painting! another 40"x40" landscape...(which, yes, I will indeed post right here for you to see once it's finished). You can also follow my blog, I'll be posting sneak peeks along the way as it progresses!
I'm also in the planning process for a year's worth of activities -shows, mentoring classes, workshops (wow, France AND Ireland - I can't wait to go there with YOU!)
ALSO*****check out the new 'Workshops and Classes' link! I'm offering workshops in France and Ireland this coming summer 2014! Start making your plans now for the trip of a lifetime!! Learn new painting techniques, record your memories of beautiful places! Traveling abroad to paint is a life-changing opportunity! You CAN do this!!
I find the textural quality of paint an exciting element of painting as much as design, composition, and color. From travels around the world, or just around the garden every day life is always an inspiration! Evoking an emotional response to a 'sense of place' is a great thrill for me. I use palette knife by itself or in a combination with a variety of brushes to reach my desired aim in my paintings.

My deepest gratitude to my collectors and friends for all your encouragement, blessings and love along my artistic journey.
I follow my bliss, and continue to paint.
- Roxanne Steed

Follow me on my Facebook Fan Page!